Choose From 40 Attractions | Admission Included
A division of the Avian Conservation Center, the Center for Birds of Prey offers...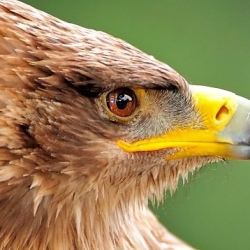 A division of the Avian Conservation Center, the Center for Birds of Prey offers visitors a unique insight into the lives and impressive adaptations of our feathered apex predators, birds of prey. The Center houses one of the largest and most diverse collections of live birds of prey in the nation including eagles, hawks, owls, falcons, kites and vultures. Whether you're a birder, a photographer, or simply want to spend the day outdoors, we invite you to explore the fascinating world of birds with us.
Coordinated programs that include a guided tour and flight demonstration are available at 10:30 am and 2:00 pm on Thursdays, Fridays, and Saturdays. Your ticket also includes access to the grounds for the day (10 am to 5 pm).
Highlights include:
Guided Tour: Enjoy a walking tour of the grounds with an experienced guide.
Flight Demonstration: Watch as hawks, falcons, owls, eagles, and vultures soar above; learn about their hunting and flying techniques.
Exhibit Area: The grounds are designed as a campus where visitors follow paths accentuated with aviaries housing nearly than 50 species of birds of prey.
Owl Wood: Owls are universally recognized as some of the most compelling ambassadors for the natural world. The Countess Alicia Paolozzi Owl Wood spans two acres in which visitors experience owls from around the world in a refined & tranquil setting.
Your visit provides operational support for the Center's educational, medical, conservation, and research initiatives. We hope that your experience here will inspire an appreciation for birds of prey and a genuine concern for the diminishing habitat upon which they—and we—depend. All proceeds from your admission go to support the Avian Conservation Center, a nonprofit 501 (c)3 organization.
View All Available Attractions...click here
Attractions Map...click here
Click on the icons below to reveal what they are.
Simply Choose a 1, 2, 3, 4 or 5-day Pass
See How it Works. Watch This Quick Video
Benefits of Tour Pass Charleston
---
STRESS-FREE EXPERIENCE: Figuring out what to do can be difficult in an unfamiliar city. We've simplified this process by hand-picking only the best tours, attractions and historic sites. There's no need to visit a bunch of websites entering your credit card info and printing tickets prior to arrival. Just present your Mobile Pass and you're in…no admission fee required…no hidden fees.
BOOK TOURS IN ADVANCE BEFORE ARRIVING: After purchasing Tour Pass, you can book your featured or reserved tours in advance for when you're visiting.
ADMISSION INCLUDED FOR 40 ATTRACTIONS: Only the best experiences are included. View available tours
INCLUDES AMAZING MOBILE PASS & GUIDE: Smartphone required.
SAVES MONEY: The more you do the more you save. Click on the saving examples icon above to see itinerary examples that may be of interest. The average customer saves 50% off of retail rates, however many have saved much more.
NON-CONSECUTIVE DAY USE: Multi-day passes (2, 3, 4 or 5-day passes) can be used on non-consecutive days.
RISK-FREE GUARANTEE: You can purchase a pass up to 12 months before use and activate it when you're ready. We will refund any pass 100% that hasn't been used up to 6 months from purchase date. No questions asked.
RATED 5 STARS: We provide superior customer service. Call or email anytime and we're available. View all reviews

Immediately after purchase we'll send your mobile pass link via email and text.
ACTIVATION: After purchase you choose the pass activation date when ready which can be today or six months from now….no rush…you're in control. After activation, you can then book or reserve your featured tours for when you're going to be in Charleston.
100% DIGITAL: Works on all mobile smartphones with a browser. No paper passes to pick-up and potentially lose.
EASY TO USE: Easily book your featured tours that require reservations with the mobile pass which is connected to the booking calendars of these tours.
DETAILED INFO TO MAKE INFORMED DECISIONS: Has detailed information on all tours available.
INTERACTIVE MAPS: Never get lost with interactive maps that show where you are in relation to all available attractions with directions.
CREATE YOUR OWN ITINERARY: Visit the attractions that interest you from our available attractions.
LANDMARK SITES: We also highlight free landmark sites that you should visit such as Rainbow Row, the Battery, Waterfront Park and the Angel Oak Tree.
Our risk-free guarantee gives you up to 180 days from purchase date to return unused passes for a full refund!
Save an Additional 5% Off of On-Sale Rates Below on Orders Over $150. Enter Code: SAVE55 at Checkout! Ends Sunday
Wonderful

It's the best way to go. We saw so much more this way than if we would have went to each thing separate. Especially the walk- ins. We wouldn't….read more
Economical & Easy to Use

Our visit to Savannah was stress free due to the use of the Savannah Tour Pass. It allowed us to plan our itinerary for the places we wanted to see….read more
A great tool to have

The Charleston Tour pass greatly enhanced our visit. We were easily able to reserve spots at the featured tours and when we arrived we just ….read more
Pass is a great deal

We purchased the 3-day pass and saved about $100 per individual. We did a number of things we wouldn't have normally done and were  ….read more
So worth buying!

We purchased this pass and we are so glad we did. We got to see and do so many different things in Charleston. We would recommend  ….read more
Well worth it

Having the 3 day tour pass made our visit easier and more enjoyable. There were plenty of ideas to choose from and it encouraged us to do more….read more