Choose From 40 Attractions | Admission Included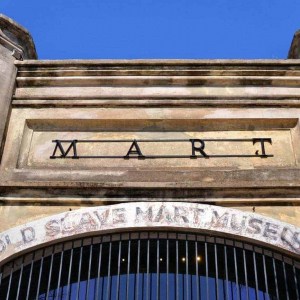 The Old Slave Mart Museum, located at 6 Chalmers St., recounts the story of...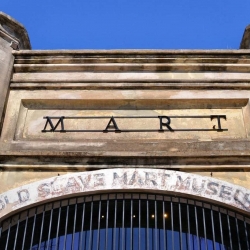 The Old Slave Mart Museum, located at 6 Chalmers St., recounts the story of Charleston's role in this inter-state slave trade by focusing on the history of this particular building and site and the slave sales that occurred here. History of The Old Slave Mart The 1808 ban on the United States' participation in the international slave trade led to a renewed demand for slave labor, which was satisfied, in part, by the creation of a domestic slave-trading system in which Charleston functioned as a major slave collecting and reselling center. The Old Slave Mart Museum, located at 6 Chalmers St., recounts the story of Charleston's role in this inter-state slave trade by focusing on the history of this particular building and site and the slave sales that occurred here. In the seven decades between the drafting of the U.S. Constitution and the Civil War, more than one million American-born slaves were sold away from plantations in the upper South to work the rapidly expanding cotton and sugar plantations in the lower South. In Charleston, enslaved African Americans were customarily sold on the north side of the Old Exchange Building. An 1856 city ordinance prohibited this practice of public sales, resulting in the opening of the Old Slave Mart and a number of other sales rooms, yards, or marts along Chalmers, State and Queen Streets. Other Uses Possibly the only known building used as a slave auction gallery in South Carolina still in existence, the Old Slave Mart was once part of a complex of buildings known as Ryan's Mart that occupied the land between Chalmers and Queen Streets. The complex consisted of a yard enclosed by a brick wall and contained three additional buildings: a four-story brick building partially containing a "barracoon," or slave jail, a kitchen, and a "dead house," or morgue. More Recently Slave auctions at the Old Slave Mart ended in November 1863. The property changed hands many times after the Civil War, and between 1878 and 1937 the building was used as a Negro tenement and as an auto repair shop. In 1938 Miriam B. Wilson purchased the building, which by then, had come to be known locally as the Old Slave Mart, and established a museum featuring African and African-American arts and crafts. Judith Wragg Chase and Louise Wragg Graves took over the Old Slave Mart in 1964, placed it on the National Register of Historic Places in 1973 and operated it until its closure in 1987. Recognizing the significant importance the institution of slavery has had in Charleston's history, the City of Charleston acquired the property in 1988.
View All Available Attractions...click here
Featured Attractions
Reservations required which are easily made in the Mobile Pass & guide you'll receive. You can reserve tours in advance before arriving.
Walk-in Attractions
No reservations are needed. Can be visited anytime during their operating hours, such as a museum.
Can visit an unlimited number of these on your active days.
Attractions Map...click here
Click on the icons below to reveal what they are.
Simply Choose a 1, 2, 3, 4 or 5-day Pass
See How it Works. Watch This Quick Video
Benefits of Tour Pass Charleston
---
STRESS-FREE EXPERIENCE: Figuring out what to do can be difficult in an unfamiliar city. We've simplified this process by hand-picking only the best tours, attractions and historic sites. There's no need to visit a bunch of websites entering your credit card info and printing tickets prior to arrival. Just present your Mobile Pass and you're in…no admission fee required…no hidden fees.
BOOK TOURS IN ADVANCE BEFORE ARRIVING: After purchasing Tour Pass, you can book your featured or reserved tours in advance for when you're visiting.
ADMISSION INCLUDED FOR 40 ATTRACTIONS: Only the best experiences are included. View available tours
INCLUDES AMAZING MOBILE PASS & GUIDE: Smartphone required.
SAVES MONEY: The more you do the more you save. Click on the saving examples icon above to see itinerary examples that may be of interest. The average customer saves 50% off of retail rates, however many have saved much more.
NON-CONSECUTIVE DAY USE: Multi-day passes (2, 3, 4 or 5-day passes) can be used on non-consecutive days.
RISK-FREE GUARANTEE: You can purchase a pass up to 12 months before use and activate it when you're ready. We will refund any pass 100% that hasn't been used up to 6 months from purchase date. No questions asked.
RATED 5 STARS: We provide superior customer service. Call or email anytime and we're available. View all reviews

Immediately after purchase we'll send your mobile pass link via email and text.
ACTIVATION: After purchase you choose the pass activation date when ready which can be today or six months from now….no rush…you're in control. After activation, you can then book or reserve your featured tours for when you're going to be in Charleston.
100% DIGITAL: Works on all mobile smartphones with a browser. No paper passes to pick-up and potentially lose.
EASY TO USE: Easily book your featured tours that require reservations with the mobile pass which is connected to the booking calendars of these tours.
DETAILED INFO TO MAKE INFORMED DECISIONS: Has detailed information on all tours available.
INTERACTIVE MAPS: Never get lost with interactive maps that show where you are in relation to all available attractions with directions.
CREATE YOUR OWN ITINERARY: Visit the attractions that interest you from our available attractions.
LANDMARK SITES: We also highlight free landmark sites that you should visit such as Rainbow Row, the Battery, Waterfront Park and the Angel Oak Tree.
Our risk-free guarantee gives you up to 180 days from purchase date to return unused passes for a full refund!
Save an Additional 5% Off of On-Sale Rates Below on Orders Over $150. Enter Code: SAVE55 at Checkout! Ends Sunday