Whether you love history, nature, architecture, dining or shopping, you won't have trouble finding things to do in Charleston. The good news is that there are some terrific attractions and activities that won't bust your vacation budget. We've put together a list of 25 free things to do in Charleston. All activities are free unless otherwise noted. A few have an admission fee, but we've stuck to things that are $5 or less.
To really take advantage and see all the sights in Charleston, SC while saving money, be sure to checkout our Charleston TourPass which includes over 40 attractions. 
1. Riverfront Park in North Charleston
Riverfront Park in North Charleston sits on the bank of the Cooper River. Stop by and see the Greater Charleston Naval Base Memorial honoring the many military personnel and civilians who served our country and the Charleston region at the former Charleston Navy Base.
2. Waterfront Park
Dip your toes in the Pineapple Fountain at Waterfront Park or sit in the bench swings and take in the views of the Charleston harbor.
3.  Mace Brown Museum of Natural History at the College of Charleston
The Mace Brown Museum is home to 3,000 fossil specimens, including dinosaurs, cave bears, Pleistocene mammals of the Carolinas, fossil plants and more. Geology students work at the museum and can give guided tours.
4.  Colonial Dorchester State Historic Site
Colonial Dorchester is a  well preserved archaeological site that gives visitors an up close glimpse into the early history of colonial South Carolina. (Admission: $2/adults; free for ages 15 and under)
5. Walk/Run or Bike the Arthur Ravenel Jr. Bridge
The architectural marvel that is the Arthur Ravenel Jr. Bridge spans the Cooper River and has a 2-mile bike/pedestrian lane called Wonders' Way. Free parking is available on East Bay Street in downtown Charleston and also on the Mount Pleasant side at Memorial Waterfront Park (#24 on this page). Be sure to stop at the top for a bird's eye view of Charleston harbor.
---
WANT TO TOUR WHILE IN CHARLESTON?
If so, checkout TourPass Charleston which provides an all-access pass with full admission to over 40 top tours, attractions and historic sites. With a TourPass you can make reservations in advance, skip the lines and make your vacations a little more stress-free. Purchase online only at: https://tourpass.com/charleston
---
6. South Carolina's Palmetto Trail
This is the state's largest bicycle and pedestrian project that runs from the sea to the mountains. Locally, hike the 7-mile Awendaw Passage accessible in the Francis Marion Forest. (Daily parking: $5)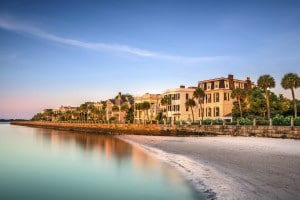 7. Walk the Battery
For iconic Charleston views walk the Battery. Once a defensive seawall, the area is now known for its historic homes and nearby White Point Garden and Battery Park at the intersection of Murray Boulevard and East Battery Street.
8. Art Walks
Charleston his home to numerous art galleries and several regular walks that are free to anyone wanting to browse the paintings, sculptures and photography. Visit CharlestonGalleryAssociation.com for a printable map.
9. Farmers Markets
The Charleston Farmers Market is open Saturdays April through November with a special holiday market in December. Browse crafts, artwork, veggies and enjoy entertainment in Marion Square. Mount Pleasant has one as well on Tuesdays – checkout our calendar of events to see what's going on while you're visiting.
10. Angel Oak Tree
Admire the majestic Angel Oak Tree, part of a public city park. Its canopy of branches spans 17,000 square feet. Insider Tip: If visiting Wadmalaw Island, make a day-trip of of it. See the Angel Oak Tree, Deep Water Vineyards, Firefly Distilleries and the Charleston Tea Planation. 
11. Palmetto Carriage "Big Red Barn"
Stop by the Red Barn at Palmetto Carriage Works to visit the horses, mules and other animals. (Fee for tours but no charge to visit the barn.)
12. Deep Water Vineyards
Yes, you read this correctly…Charleston has a vineyard! Deep Water Vineyards is located on Wadmalaw Island and has great tasting muscadine wine  (Taste five wines and get a souvenir glass for $5.) Also located on the property is Firefly Distilleries, made famous with their Sweet Tea Vodka. Tastings and tours are available most days. Visit their website for more details. Insider Tip: If visiting Wadmalaw Island, make a day-trip of of it. See the Angel Oak Tree, Deep Water Vineyards, Firefly Distilleries and the Charleston Tea Planation. 
13. Charleston's historic City Hall
Check-out this beautiful building (80 Broad St.), constructed in the early 1800s. Also, the picturesque Washington Square Park is located by city hall and features beautiful architecture, memorials and ironwork.
14. Charleston County Parks
The Charleston County Parks system has more than 10 terrific park spaces, some of which have dog parks, waterparks, trails, bike paths, green space and beach access. (Admission: $2/person at James Island County Park, Mount Pleasant Palmetto Islands County Park, North Charleston Wannamaker County Park, and Caw Caw Interpretive Center.) In 2016 they opened up a new skatepark….which we think is pretty rad :)
15. Fort Moultrie
Visit Fort Moultrie on Sullivan's Island for a look at history from the American Revolution through World War II. (Admission: $3/adults; free for ages 15 and under). Insider tip: Walk the beach there for stunning views of nearby Fort Sumter and the Charleston skyline from a distance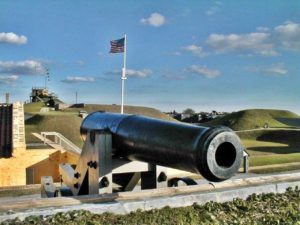 16. Charles Pinckney National Historic Site
This site highlights the work of Charles Pinckney, a principal author and a signer of the U.S. Constitution. This remnant of his coastal plantation is preserved to tell of life of public service and to highlight the lives of enslaved African Americans on Lowcountry plantations and their influences on Pinckney.
17. The Town of Summerville
Summerville's quaint town square and picturesque downtown is lined with boutiques, restaurants, art galleries and antique stories. Go window shopping before stopping in Guerin's Pharmacy – the oldest pharmacy in South Carolina – for an old-fashioned ice cream float.
18. Charleston City Market
Visit the Charleston City Market which stretches from Meeting Street to East Bay Street. Dozens of vendors showcase their crafts, artwork, jewelry and sweetgrass baskets.
19. Magnolia Cemetery
Magnolia Cemetery is the oldest public cemetery in Charleston. Founded in 1849, it is listed on the National Register of Historic Places. Many famous Charlestonians are laid to rest here along with the crew of the H.L. Hunley.
20. Circular Congregational Church Cemetery
This is likely the oldest English burial ground still in existence in Charleston. The earliest unmarked grave dates from 1695.
21. Charleston Tea Plantation
Charleston is home to America's only tea garden. Visit the Charleston Tea Plantation and take a complimentary factory tour and browse the gift shop. Insider Tip: If visiting Wadmalaw Island, make a day-trip of it. See the Angel Oak Tree, Deep Water Vineyards, Firefly Distilleries and the Charleston Tea Plantation.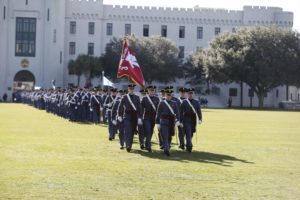 22. Avery Research Center
Avery Research Center is located at the College of Charleston. Stop here to view the collection of items that highlight the African-American history and culture in the South Carolina Lowcountry.
23. Watch the Cadets at The Citadel conduct a dress parade.
On Fridays at various times throughout the year, the cadets parade the grounds and also at times present awards and recognize notable individuals. See the parade schedule.
24. Memorial Waterfront Park
Located at the base of the Ravenel Bridge in Mount Pleasant. Enjoy the large lawn, pier that stretches out into the Cooper River and nautical-themed playground. Also stop by the Sweetgrass Basket Pavilion, a cultural arts exhibit on the history of sweetgrass basket making. Insider tip: Visit at sunset for amazing views!
25. Morris Island Lighthouse
To see this Morris Island Lighthouse, drive as far north as possible on East Ashley Ave on Folly Beach, park, and then prepare for a 1/4 mile walk…you'll see the signs. Built in 1876 and situated about 300 yards off-shore, the lighthouse is visible from the northeast end of the island.
26. Book Discounted Charleston Tours Tickets Direct
Ok…this isn't free but you can book tickets to the top-rated tours and attractions. You can book direct from our site and apply coupon codes to save a bunch of money. We have a low price guarantee! Check it out: Charleston tour and attraction tickets
27. The Halsey Institute of Contemporary Art
The Halsey Institute of Contemporary Art is a non-profit, non-collecting contemporary art institute within the School of the Arts at the College of Charleston in Charleston, South Carolina. The HICA presents contemporary art exhibitions by emerging or mid-career artists. The exhibits are always free and open to the public.
28. Pitt Street Bridge
The Pitt Street Bridge closed when the Ben Sawyer Bridge opened in 1945. Now a modern greenway called Pickett Park takes pedestrians and bicyclists across the former bridge site and actually leads into the remaining part of the old bridge, offering a view of the pilings that allowed people to cross the inlet more than a century ago.
29. Hampton Park
Hampton Park is one of the City of Charleston's largest parks. It is home to an old rose collection and extensive floral displays. Go for a run, walk your dog, or relax in the Rose Pavillion near the lagoon.
30. Folly Beach
This barrier island beach has a laid-back atmosphere and is often frequented by locals and surfers. With plenty of restaurants, surf shops, hotels and beach rentals, Folly Beach is a great place to spend some time. Plus, Folly is a short drive from the heart of downtown Charleston with all its attractions and activities
31. Rainbow Row
One of the most photographed landmarks. Rainbow Row includes a stretch of 13 brightly colored historic homes that you've probably seen in famous photographs. It's definitely a sight to see for yourself.  Watch our Rainbow Row video! 
32. Sullivan's Island
The Town of Sullivan's Island, a barrier island north of the Charleston harbor, has only about 2,000 residents. With its unspoiled views and terrific dining options, Sullivan's is a favorite among Charleston area locals. The beach has few short-term rentals and no hotels so plan a day trip to this beach, also located just a few minutes from the Isle of Palms.
33. Shem Creek Park
Shem Creek Park is a 2,200-foot boardwalk that stretches from Coleman Boulevard to the mouth of the creek at the Charleston harbor. The park has floating dock space and a commercial fishing dock.
34. West Ashley Greenway
This trail stretches 10.5 miles from the South Windermere Shopping Center on Folly Road to Johns Island. Parking is available at either end and the trail is open from dawn to dusk. It's 100 feet wide and mostly hard-parked dirt. Plus, the trail is flat so it's great for beginning bikers and kids. For the most part, the trail runs parallel to U.S. Highway 17 past neighborhoods, parks and marshes so there's plenty to see.
35. The North Charleston Fire Museum
They house the largest collection of professionally restored American LaFrance fire apparatus in the country! Over 20 vehicles that date as far back as the 1780's. Free admission for children 12 and under. Adults are just $6.00.
---
WANT TO TOUR WHILE IN CHARLESTON?
If so, checkout TourPass Charleston which provides an all-access pass with full admission to over 40 top tours, attractions and historic sites. With a TourPass you can make reservations in advance, skip the lines and make your vacations a little more stress-free. Purchase online only at: https://tourpass.com/charleston