The historic city of St. Augustine, Florida is a visitor favorite since there's so much to do and see within the city. From the many top tours and attractions to shopping, restaurants, nightlife, the beaches…..the list goes on and on. Below we'll recommend the best ways to get around St. Augustine.
Which Trolley is Best | Getting Around St. Augustine
St. Augustine Transportation Options
St. Augustine has two trolley tour companies that you can choose from: Old Town Trolley Tours and Red Train Trolley Tours. They are vastly different as to what you receive. Read below for details.
OLD TOWN TROLLEY HOP ON HOP OFF TOUR
This is the only hop on hop off trolley service in St. Augustine and are hard to miss because of the green and orange bus colors. Their friendly and knowledgeable staff are literally the best in the business.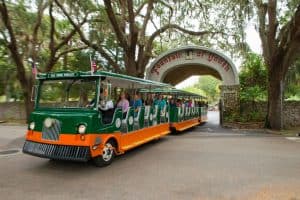 They offer daily hop on hop off service. You can get on and off an unlimited number of times throughout the day for the same price.
Tours begin at 9 am and end at 4:30 pm – check their schedule for holiday hours.
Tours run continuously every 15 minutes therefore you won't have to wait long at each bus stop for the next trolley to pick you up.
A total of 22 stops.
Free parking is offered if you get on at one of their Visitor Center locations (limited by availability).
They also have a beach route and also offer hotel pick-up service.
Options for both 1-day and 2-days.
Our recommendation: Purchase a St. Augustine Tour Pass which includes the Trolley tour along with all the other top museums and tours.
RED TRAIN TROLLEY TOUR
The Red Train Trolley is not a hop off hop off tour, you get on and they tell you the history of over 100 sites you pass by. You are not able to hop on and off and are required to get off after the tour is over. Each tour time is about 1 hour and departs from the Ripley's Believe it or Not Museum. 
WHICH TROLLEY TOUR IS BEST? 
They're both great tours and each have their pluses and minuses. For the win…..Old Town Trolley Tours. You can hop off and hear the narrated history of the city (just like the Red Train), however you can hop off and back on all throughout the day.
A positive with Red Train is that the price is lower.
Additional St. Augustine Transportation Options
Walking: St. Augustine is very compact and can easily be walked. The historic area is very safe to walk. 
Bicycle rentals: you can rent a bicycle at a few places throughout town.
Uber or Lyft is available.
Moped or golf cart rentals can be rented typically at the same locations as bicycles.
Want to Really Experience St. Augustine? Buy a TourPass!
Want to save money and visit all that St. Augustine has to offer? If so, then we recommend purchasing TourPass St. Augustine. You can purchase a 1-day pass which will more than pay for itself by visiting only 3 attractions.