Choose From 30 Top Attractions | Admission Included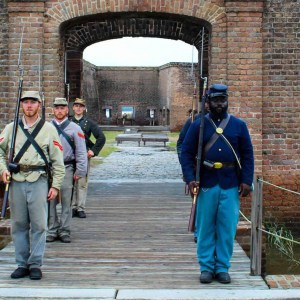 Old Fort Jackson is a must-see National Historic Landmark offering daily cannon firings and...
Old Fort Jackson is a must-see National Historic Landmark offering daily cannon firings and exciting interactive programs for adults, kids and families! Only minutes away from historic downtown Savannah, you can experience unique views of Savannah's riverfront and walk on the grounds of one of the oldest brick fortifications on the East Coast. History This fortification is located on the Savannah River, just 3 miles east of the city. It was constructed in 1808 as part of President Thomas Jefferson's Second System coastal defense initiative and named after Revolutionary War patriot James Jackson. This brick fort was constructed over an old earthen battery from the Revolutionary War which had been called "Mud Fort." Soldiers were stationed at Fort James Jackson to guard Savannah during the War of 1812. Following the War of 1812, two periods of construction continued expansion of the fort from the 1840s-1850s, prior to the outbreak of the American Civil War. Local Confederate militia units occupied the fort at the start of the Civil War in 1861. In 1862, it became the headquarters for Savannah's river defenses after the fall of Fort Pulaski. In 1864 the Confederate troops quickly evacuated Fort Jackson just prior to the arrival of federal troops under the leadership of General William Tecumesh Sherman after his infamous "March to the Sea," leaving Fort Jackson under control of federal troops. The last American soldiers to be stationed at Fort Jackson were members of the 55th Massachusetts, an African- American unit of the Federal Army. The War Department abandoned the fort in 1905 and the state of Georgia reopened it in 1965 as a maritime museum. After the state decided to close the museum in 1975, the newly formed nonprofit Coastal Heritage Society approached the State in 1976 asking permission to re-open and operate the site, which was granted. The historic site was now referred to as Old Fort Jackson. In 1978, Fort Jackson and CHS came under the leadership of Scott W. Smith. Operation continued to grow with modest success as did development of educational programming for regular guests and student field trips. Currently, Old Fort Jackson has a successful model of independent operation and a solid reputation of delivering high-quality, engaging educational programming for booked groups. This program offering has been expanded to regular operation for daily museum guests and includes cannon, musket firings and other interactive & hands-on activities.
AVAILABLE ATTRACTIONS...click here
| | | |
| --- | --- | --- |
| Duration | Featured Attractions | Walk-in Attractions |
| 1-Day Pass | Choose 2 | As Many As You Want for 1-Day |
| 2-Day Pass | Choose 3 | As Many As You Want for 2-Days |
| 3-Day Pass | Choose 4 | As Many As You Want for 3-Days |
---
Featured Attractions
Require reservations which are easily made in the Mobile Pass you'll receive.
Walk-in Attractions
No reservations are needed. Can be visited anytime during their operating hours, such as a museum.
Can visit an unlimited number of these on your active days.
ATTRACTIONS MAP...click here
Click on the icons below to reveal what they are.
SAVING EXAMPLES: Save $86 per Person With a 3-Day Pass...click here
Summary: Save $86 per person which is 59% off of retail rates with a 3-day pass!
(Examples below are suggestions. You can choose whatever you'd like to do from the available tours/attractions.)
---
---
---
There's no denying the savings and convenience that Tour Pass offers! Plus you can book your tours in advance with our amazing Mobile Pass that includes maps and detailed attraction information.
Simply Choose a 1, 2 or 3-day Pass
See How it Works. Watch This Quick Video
(Savannah Pass operates similarly to the Charleston pass in video with different tour options)
Figuring out what to do in an unfamiliar city is stressful. We've simplified this process by hand-picking only the best tours, attractions and historic sites. Simply present your Mobile Pass and you're in!
After purchasing Tour Pass, you can book your featured or reserved tours in advance for when you're visiting.
Admission Included for 40+ Attractions
Mobile Pass & Guide Included
Smartphone required with internet connection. (Apple, Android or Windows phone or tablet)
No need to wait in line, just present your Mobile Pass at the ticket window and you're in!
See savings example above where you can save $86 per person with just a 3-day pass! Click here to view
Multi-day passes (2, 3, 4 or 5-day passes) can be used on non-consecutive days.
You can purchase a pass up to 12 months before use and activate it when you're ready. We will refund any pass 100% that hasn't been used up to 6 months from purchase date. No questions asked.
 We provide superior customer service. Call or email anytime and we're available. View all reviews
Never get lost. Maps show where you are located in relation to tours, attractions and landmarks.
After purchase, choose a pass activation date and then book the tours you want to visit in advance before arriving.
Save an Additional 5% Off of On-Sale Prices Below on Orders Over $150. Enter Code: SAVE55 at Checkout! Ends Sunday
Wonderful

It's the best way to go. We saw so much more this way than if we would have went to each thing separate. Especially the walk- ins. We wouldn't….read more
Economical & Easy to Use

Our visit to Savannah was stress free due to the use of the Savannah Tour Pass. It allowed us to plan our itinerary for the places we wanted to see….read more
A great tool to have

The Charleston Tour pass greatly enhanced our visit. We were easily able to reserve spots at the featured tours and when we arrived we just ….read more
Pass is a great deal

We purchased the 3-day pass and saved about $100 per individual. We did a number of things we wouldn't have normally done and were  ….read more
So worth buying!

We purchased this pass and we are so glad we did. We got to see and do so many different things in Charleston. We would recommend  ….read more
Well worth it

Having the 3 day tour pass made our visit easier and more enjoyable. There were plenty of ideas to choose from and it encouraged us to do more….read more