Spring break is the perfect time to get away from your busy routine and experience all that the Southern city of Savannah, Georgia has to offer. We'll outline some must do Savannah activities along with some free or inexpensive along with some money saving opportunities.
We of course will also outline Savannah TourPass,  which makes finding fun and exciting things to do in Savannah a cinch. On this page, We'll provide all the information you need about TourPass and how it can help you take your spring break trip to the next level.
Best Spring-time Things to Do in Savannah
EXPLORE DOWNTOWN SAVANNAH'S HISTORIC DISTRICT
The historic district in Savannah if full of beautiful squares, live oak trees with Spanish moss, fabulous architecture, great cuisine and amazing tours. What else could you possibly ask for? 
Squares of Savannah
Savannah, Georgia is known for its historic city squares, which were laid out in the city's original plan by James Oglethorpe in 1733 . The squares are located throughout the city and are a central feature of the city's historic district. There are a total of 22 squares in Savannah, each with its own unique history and character. Some of the most well-known squares include Johnson Square, Chippewa Square, Forsyth Park and Wright Square. Each square is surrounded by historic buildings, many of which have been restored and are now home to shops, restaurants, and other businesses. The squares are popular with tourists and locals alike, and are often used as venues for events and festivals.
Visit historical sites and tour the city
If you plan on touring, the first thing you need to do is get a Savannah TourPass. Doing so will make your visit way more manageable and stress-free. TourPass includes all of the top tours and attractions (over 30 to choose from)…and full admission is included. Here are a few of the must-see tours that we recommend taking: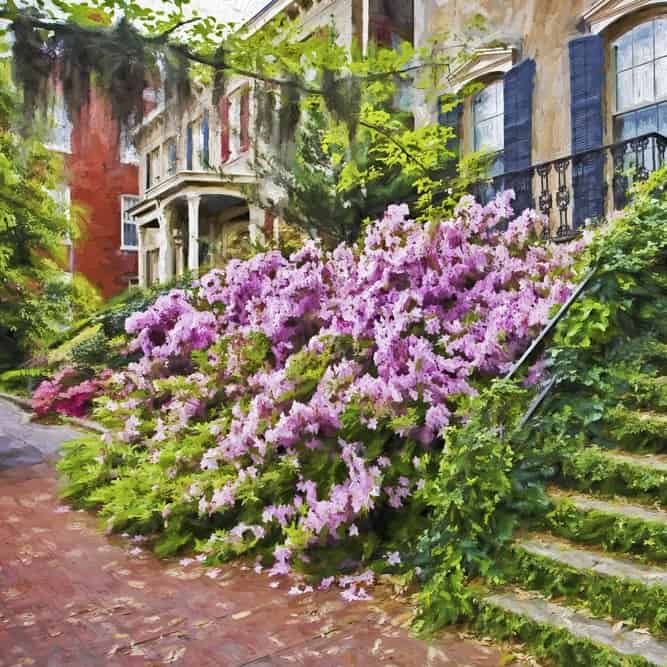 HIT THE BEACH, TYBEE ISLAND
Tybee Island is the local beach area for Savannah and is located just 20 minutes from the historic district.  The island is known for its miles of sandy beaches, as well as its historic lighthouse and fort.
The weather in the spring is typically warm with average Atlantic Ocean temps in the 60's…which is a bit chilly but tolerable. 
The lighthouse, which was first built in 1736 and rebuilt in 1742 and again in 1867, is a popular tourist attraction. Visitors can climb the 178 steps to the top of the lighthouse for a panoramic view of the island and the surrounding area. The Tybee Island Light Station and Museum, located nearby, offers exhibits on the history of the lighthouse and the island.
Another popular attraction on Tybee Island is Fort Screven, a historic coastal defense fort built in the late 19th and early 20th century. Visitors can explore the fort's historic gun batteries and learn about its role in defending the coast during World War II.
In addition to its beaches and historic sites, Tybee Island offers a variety of outdoor activities, such as fishing, boating, and bird watching. There are also a number of shops, restaurants, and bars on the island, making it a popular destination for both tourists and residents.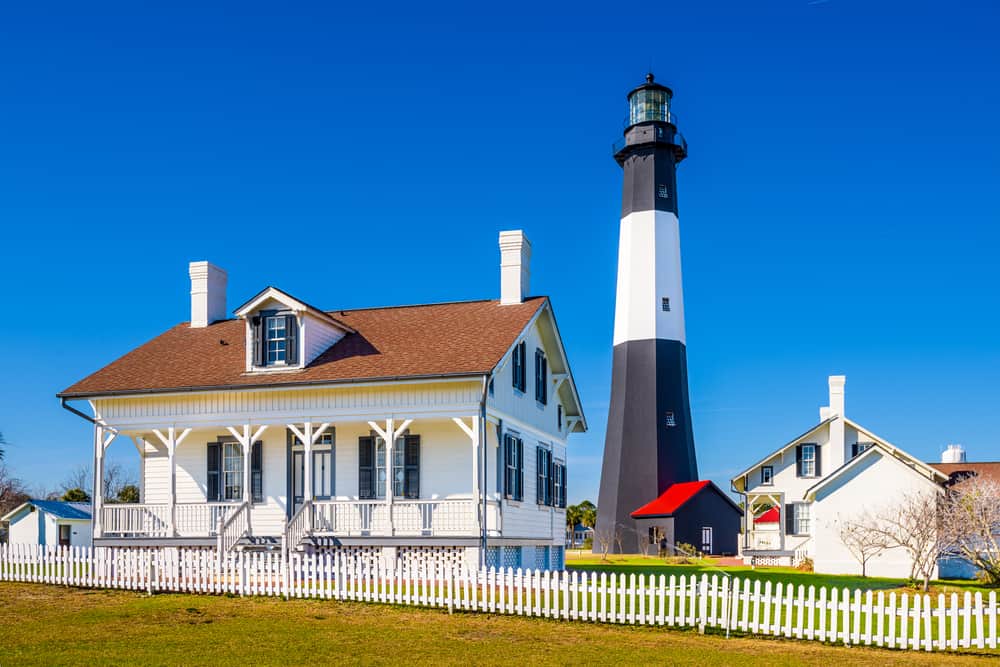 Want to Really Experience Savannah? Buy a TourPass!
Want to save money and visit all that Savannah has to offer? If so, then we recommend purchasing TourPass Savannah. You can purchase a 1-day pass which will more than pay for itself by visiting a few attractions.
DOWNTOWN SAVANNAH HOTELS (WHERE TO STAY)
 Located in the historic district of Savannah, this hotel features elegant guest rooms and suites, a rooftop terrace, and a fitness center.
This luxury hotel offers stunning views of the Savannah River, a rooftop pool and bar, and spacious guest rooms and suites.
This historic hotel is located in the heart of Savannah's downtown district and features restored original details, a rooftop terrace, and a courtyard garden.
The DoubleTree by Hilton Hotel Savannah Historic District
This hotel offers comfortable guest rooms and suites, a fitness center, and a restaurant and bar. Located within walking distance of many of Savannah's top attractions.
The Westin Savannah Harbor Golf Resort & Spa
This resort features a championship golf course, a full-service spa, and luxurious guest rooms and suites. It is located on the banks of the Savannah River and offers stunning views of Savannah's riverfront.
TRANSPORTATION & GETTING AROUND
Getting around Savannah's historic district is a lot easier than you probably imagined. Savannah has a free Hop On Hop Off Trolley operated by the city that is not narrated….no frills. Free trolley map provided
There's also a paid (and narrated) Hop On Hop Off Trolley that's included with TourPass Savannah. 
Most people use the paid trolley for their first day of touring and then utilize the free version for subsequent days.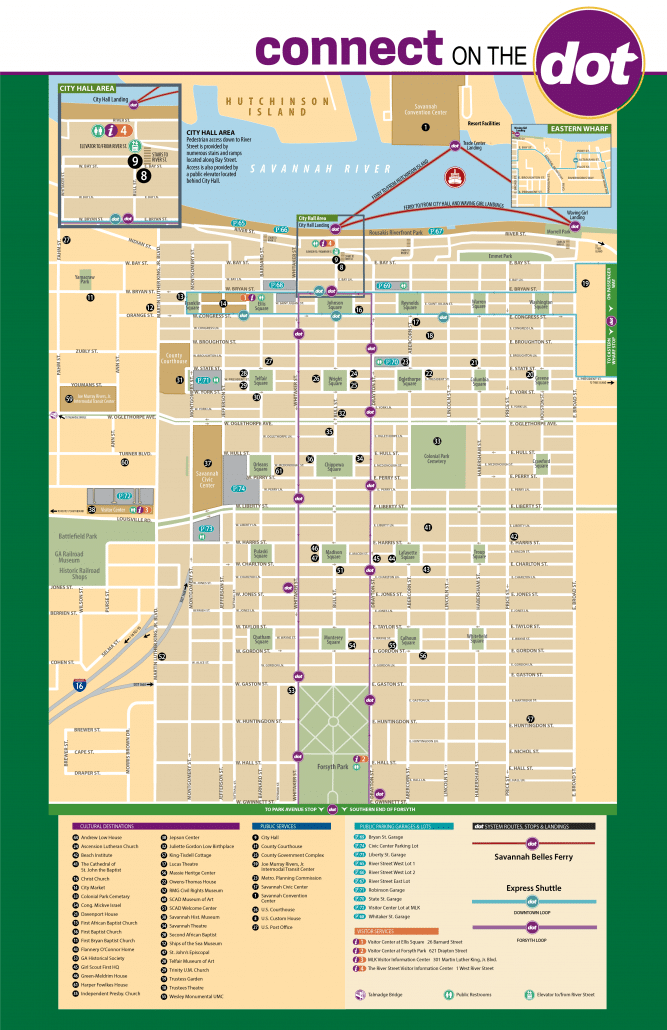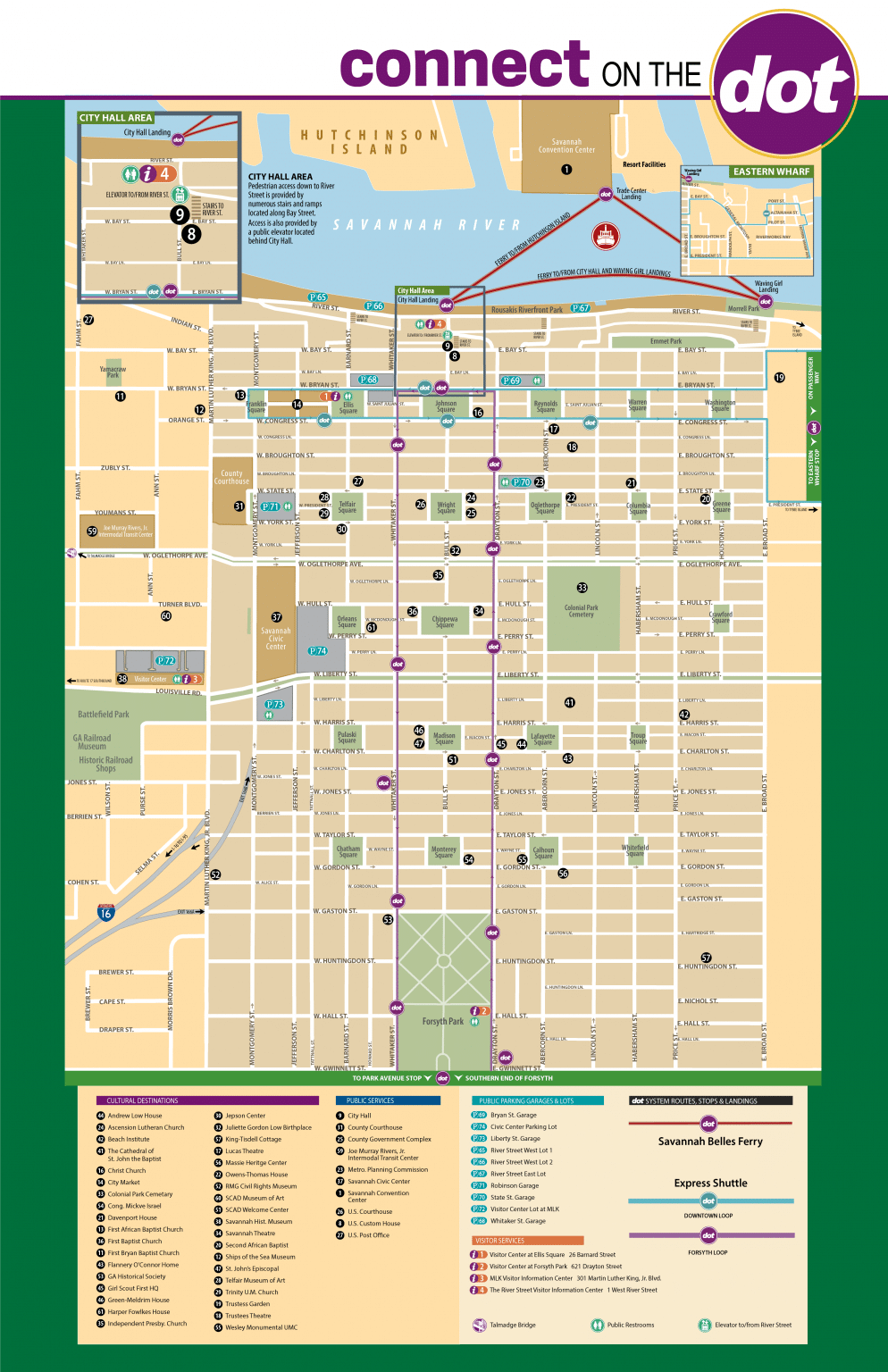 WHERE TO PARK
Parking in Savannah can be challenging when it is busy. If you're lucky you'll find a metered parking spot near what you plan to visit. In most cases you should plan on using parking garages. 
We listed a map of all the parking garages in town.

Want to Really Experience Savannah? Buy a TourPass!
Want to save money and visit all that Savannah has to offer? If so, then we recommend purchasing TourPass Savannah. You can purchase a 1-day pass which will more than pay for itself by visiting a few attractions.
POPULAR SPRING EVENTS
Every spring Savannah hosts some world-class events. Here are a few that happen in the spring season.
St. Patrick's Day Parade & Celebration 
If you have heard of Savannah, then you have heard of our famous St. Patrick's Day Parade. This holiday favorite is one of the largest in the nation and garners the year's biggest crowd. Revelers come from miles around to celebrate Savannah's rich Irish heritage at this must-attend event.
Savannah Stopover Festival
On the historic grounds of the Georgia State Railroad Museum, join us as hundreds of bands travel through Savannah to participate in the 11th annual Savannah Stopover Music Festival. Each year, the bands seem to get bigger, the crowds larger and the atmosphere crazier. Regional and national acts take the stage in some of Savannah's most unique and eccentric venues during this annual festival.
Savannah Music Festival
For over 30 years, this annual 17-day festival is Georgia's largest musical arts event. In fact, it brings nearly 500 artists from all over the globe to Savannah each year! The crowds come from across the nation and around the world. The sounds are varied, the classes abundant and the artists plenty.